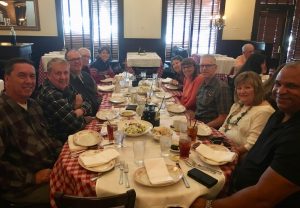 Chaplain Steve and Jan Lowe hosted our annual Christmas Luncheon with the team from Orange County, Chaplain Charlie Corum (front left) from Los Angeles County, and retired Chaplain Jess Frey. Charlie shared that 24 churches had donated 2000 gift bags for every incarcerated youth in the LA probation facilities!
I got to attend the Calvary Chapel Mission's Conference for one day only this year
and heard missionary and author Patrick Johnston speak on discipleship. Discipleship is establishing a relationship with another believer to teach them to do what you do and then allowing the Holy Spirit to continue the work. Patrick teaches that we are living in a 6th Great Awakening that has been occurring in Africa, Asia, and South America since 1964. In the 1990's over a hundred million believers were added to the kingdom. He became a missionary in South Africa at age 24 and the mission organization had a policy that you couldn't marry for six years. Patrick wrote the book Operation World and The Church is Bigger Than You Think. He is 79 years old and still going.